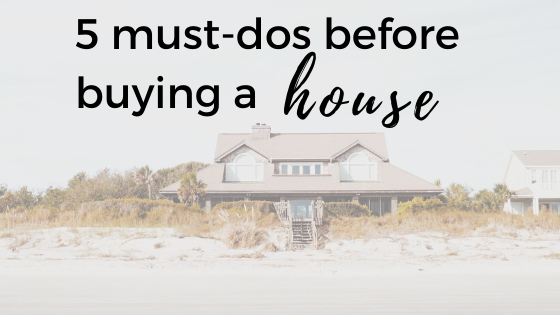 Buying a home isn't something we can be spontaneous about – we must plan ahead and ensure we are in a position to buy.
Below are a few steps to think about to guarantee a smooth homebuying process:
Manage your debt.
In order to buy a home you should be out of debt and building an emergency fund. This will decrease your credit utilization, boost your credit score, and help you obtain the best interest rate when you're ready to obtain a loan. Those who don't wait to pay off their debt before buying find themselves stressed out, which is only magnified when their pet racks up huge vet bills or they lose their job. An emergency fund will alleviate the stress of unexpected catastrophes.
Save for a down payment.
Nowadays you can buy a house for less than 20% down, but that doesn't mean you shouldn't try to save for a large down payment. You may decide to put down 20% in order to avoid private mortgage insurance payments, or you can put the excess money towards closing costs and unexpected home repairs.
Figure out how much you can afford.
Stay conservative and strategize your budget, so only a third of your monthly income is going towards your mortgage. You need money left in your budget, like saving for retirement, home improvements, or your kids' college.
Don't let emotions cloud your judgment.
When you start thinking about home shopping you may find the perfect home in a really unsafe, rundown neighborhood. And you may decide you don't like any other homes more than that one and want to put an offer in. However, you must remind yourself that you can make drastic changes to a home, but you can't move the home's location. If you're not happy with the location, then chances are you'll be very unhappy in your new home. So determine what neighborhoods will work for you and base your home shopping experience off that.
Get pre-approved.
There's no point in attending an open house until you know what you can afford. You don't want to waste your time, and real estate agents most likely won't show you any houses until you have been pre-approved. This will also help you determine a price range you feel comfortable with, and make your offer stand out from others when the pre-approval letter shows how prepared and serious you are about purchasing a house.
Buying a home takes a lot of preparation and work, but the reward is knowing your strategic planning will set you up for a chapter of happiness in your new home.
I encourage you to take another step to making sure your hard work doesn't go to waste by working with a buyer's agent – the seller pays their commission, so you won't be charged a dime!
A buyer's agent can help you find the perfect home for your needs, while negotiating contracts on your behalf, and handling the final closing.
I would LOVE to be that agent for you. Please don't hesitate to reach out to me to start a dialogue about your real estate goals.